Guide for Facilitators of Collaborative Teacher Learning
This e-book is a Guide, which provides theoretical background and practical tools for all professionals and practitioners engaged in collaborative teacher learning.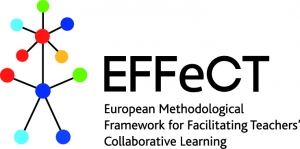 Editor:
Eszter SZEGEDI, project leader
AUTHOR:
ALBRECHT-GARAI, Katalin
ROBERTS, Amanda
KIRKHAM, Glynn
O'DOHERTY, Teresa
OGANISJANA, Karine
OZOLS, Rolands 
PENNANEN, Matti
RISKU, Mika
ROBERTS, Amanda
STEPHENSON, Joan
SZEGEDI, Eszter
WOODS A., Philip
Tempus Public Foundation, 2018. Budapest
All rights reserved.  No parts of this publication may be reproduced, stored in a retrieval system, or transmitted, in any form or by any means, electronic, mechanical, photocopying, recording or otherwise, without the prior permission of the publishers. 
This project has been funded with support from the European Commission. This e-book reflects the views only of the authors, and the Commission cannot be held responsible for any use which may be made of the information contained therein.